ECIC and ICSTI 2022 for Exhibitors and Sponsors
In conjunction with the 8th European Coke and lronmaking Congress and the 9th International Conference on Science and technology, the Steel Institute VDEh would like to invite you to actively participate in two events.
We estimate that about 700 experts in the cokemaking and in the ironmaking industry as well as in research and development will participate in the events. Your contribution and participation will help us make these a success.
All plant manufacturer and supplier companies should not miss this unique opportunity to promote new products, outline services and highlight key achievements to delegates. The exhibition area will be located directly to the events. Coffee and refreshments will be served during breaks in the exhibition hall to maximise delegate visits to stands.
Sponsor Packages
Attractive sponsorship packages will be also available to attract interest in your company, products and services.
Gold Sponsor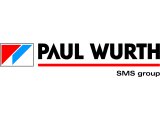 PAUL WURTH S.A.
http://www.paulwurth.com
PAUL WURTH - 150 Years of Excellence
Headquartered in Luxembourg since its beginnings back in 1870, the Paul Wurth Group is very proud to celebrate its 150th anniversary in 2020. 150 years of excellence, during which Paul Wurth has developed into an international engineering company and an established technology provider for the global ironmaking industry.
Thanks to this extensive experience and its capacity to continuously innovate, Paul Wurth is a leading market player for the design and construction of complete blast furnace and coke oven plants. Direct reduction plants, environmental protection technologies for the iron and steel industry as well as waste treatment and recycling facilities complete Paul Wurth's product portfolio. Presently, the company is focusing on developing innovative solutions for leading the decarbonisation of the metals industry.
In addition to its core competence in development and execution of new construction projects and modernisations, Paul Wurth also offers a full range of products and services in engineering, project management, site supervision, commissioning assistance, operator consulting and after-sales, with a special focus on digital solutions.
With more than 1 500 employees and entities in around 20 countries, the Paul Wurth Group has a strong presence primarily in those regions of the world where a significant iron and steel industry operates.